The profitable niche for your blog play an important role on your success.
It'll help you determine who your audience is, which blog post ideas to focus on and which products you need to create.
Most importantly, it'll help you maintain focus as you plan out your editorial schedule and overall business and marketing strategies.
In this post, we're going to go over what a blogging niche is, why your blog needs one and the steps you can take to find yours.
We'll then go over the steps you should take upon finding your niche as it'll unlock a number of different tasks for you to tackle. Let's get started.
What is a Blog Niche?
In simple words niche is the "specialized section" of a broad topic.
For example, Finance and business is a broad topic, in that online marketing is a niche, sports is a broad topic in that football is a niche.
So, what is a blog niche? A blogging niche is an overarching topic your blog focuses on.
It's an umbrella category every blog post you publish can fall under. It represents the niche market and audience your blog targets.
You're not blogging for "basketball fans," a broad audience. You're blogging for "NBA fans," a niche audience.
Why should your blog have a niche?
In 2019 onwards the blog of everything or a blog of broad niche may not work. You will stop getting your traffic when you don't have your targeted audience for your blog.
You write about smartphones today, then you write about health tomorrow, and then you start talking about politics next week. This kind of setup has its own problem; you will fail to attract a targeted audience.
The people come to the blog will not subscribe to you because your blog is not the actual niche they are looking on.
They might be coming to your blog for weight loss, the next day you are posting about fishing. so they will think that it is not for them.
As per the google's 2019 algorithm you wont be ranking in the googles search engine if your blog as mentioned above.
So, always choose a niche for your blog not the topic.
for eg: Smart Futures is a blog for online marketers and bloggers.
Its niche is blogging, affiliate marketing, WordPress, SEO, and so on. I know it sounds like many topics, but if you look closely, all are part of the online marketing/blogging/entrepreneurship niche.
Similarly, your blog needs to have a niche from day one.
How to find your profitable blog niche
When deciding on a niche, you need to think about one very important thing:
If you're blogging for profit, you don't want to choose a topic which gets tons of traffic but gets no money.
Topic like:
Free SMS
Free wallpaper
WhatsApp tips
Free movie downloads
etc.
These niches will get you a lot of traffic, but probably won't get you very much money.
At the same time, you don't want to pick a niche which is too tough for you to write about.
So what's a good niche?
A good niche is one which is related to what you like, has good traffic, and also has a monetary value. More than that, your niche should have a future.
here are 4 steps to find out a perfect profitable niche for your blog:
1. Pick up topics
Find a topic that you know better than anyone else. It doesn't have to be the job you are doing, and it could be anything. like the topic which you wanted to study or which you are studying.
Now, take the help of pen-paper and write down the topics in different columns that you like.
For eg: Motivation, Fashion, Technology, Finance, Photography, Scientific research, Babycare, health care and so on. Now, try to write 20 post ideas for those different columns.
When you are writing the post title, think about what you can write without taking reference. By the end of the 20th article, it will help you to find the topic (Niche) that you like the most.
2. Choose a niche of your passion
Passion about the niche becomes the most important thing while choosing the niche for your blog.
The most common mistake every unsuccessful blogger does is they dosen't choose the niche of their passion. It plays the important role for your success in blogging.
The niche of my first ever wordpress blog was 'tecnology' I choosed this niche because I found this as the most common searched topic and the profitable too.
For getting the ideas to write blog posts I have started watching videos of the popular tech youtubers like unbox theraphy, technical guruji, etc.
soon after I started writing the review of new gadgets and promoting affiliate products. I have written almost 5 post in 15 days.
The result was I didnt got any visitors to my blog. I started getting bored to write more blog post. This resulted me to stop or freeze that blog.
"Conclusion of my above story"
Keep it in mind none of the blog is or will be success at your first month or may be at first year. It takes good time to be succeed.
wherease if you choose the blog niche which is not on your passion you will stop writing the post and your website will be failed, like what happened to me.
Before this website I had more than 5-6 blogs, all of them got failed accept healthyndiets.com.
Now I have 2 blogs which are this (i.e., Smart Futures) and HealthynDiets Both of them are my interesting niches and I write as many as possible blog post without even getting bored. Even if, it is not receiving any traffic.
The only thing I get bothered is my relatives…
they just keeps on asking me 'what are you doing', 'stop this blog and do something else in that time'. 'dont waste your time', 'everyone can do blogging and you wont make good money in this', etc.
For this I suggest you to go for a part time job just to show to your family because they dont know how much a good blog can earn…
I always recommend you to choose the niche according to your passion.
3. Use Keyword Planner to Find More Ideas
If you're having trouble breaking down your niches, use a tool called Google Keyword Planner. You'll need to logged into a Google account to use it. Enter a broad or first-level niche topic to generate a number of different keyword ideas, many of which can very well be blog niche ideas.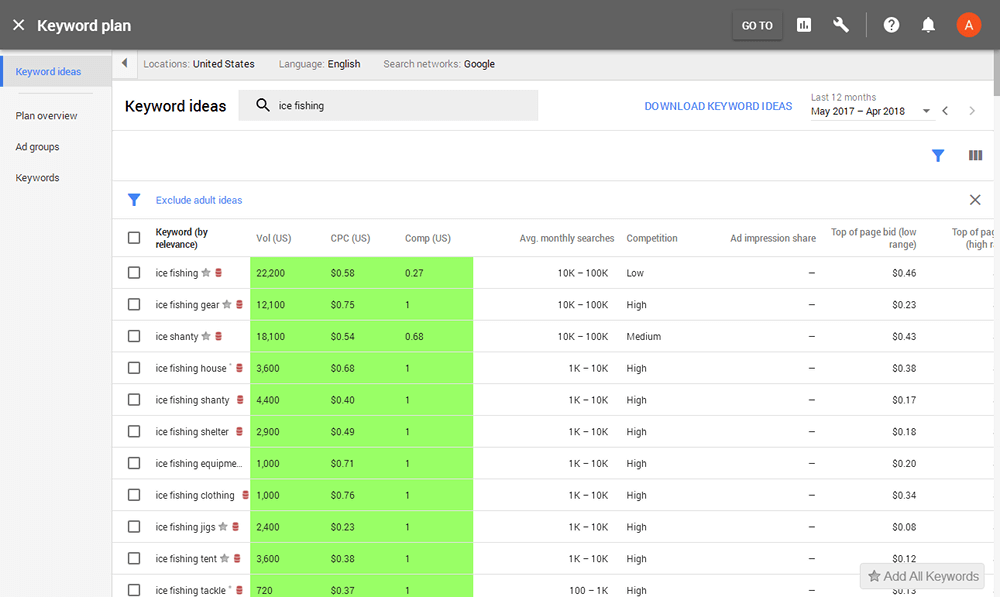 Use each niche topic to generate new ideas. Once you have your mind map full of ideas, narrow the list down to a handful of ideas. Around 2-10 should be good.

4. Determine Which Niche is Most Profitable
You can technically choose a niche from all of the brainstorming you've just done, but let's dive a little deeper and research our niches to determine which one has the most potential to be profitable, which one is most popular and which one has the most competition.
Let's start with a tool called Keywords Everywhere. It's a free browser extension you can add to Chrome or Firefox. It displays keyword metrics in a variety of different places, including Google. Install it in your browser, and use Google Search for each of your niche topics.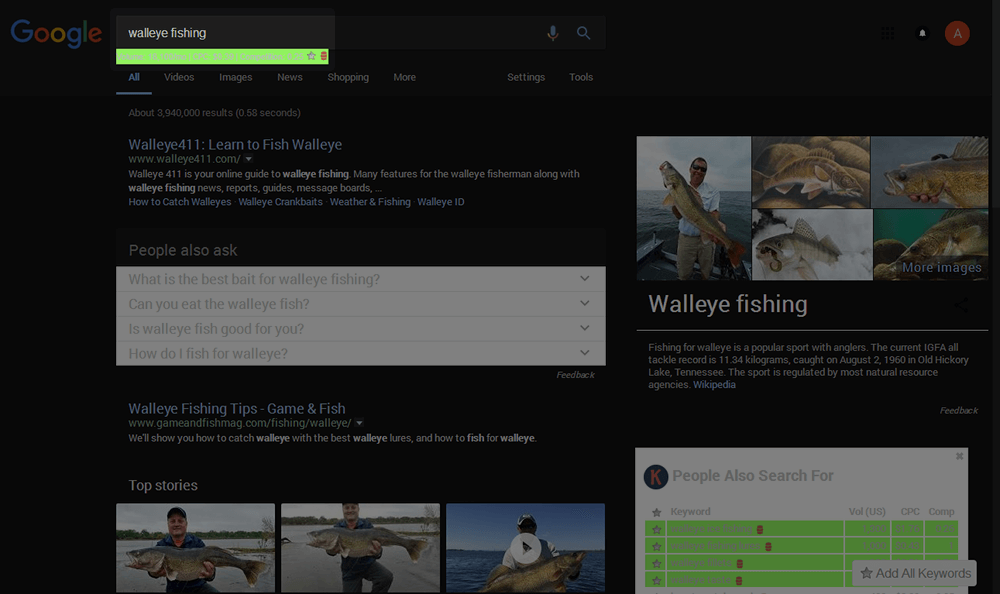 Record each search volume metric in a document, spreadsheet or child branch in Coggle. You can even record each CPC metric to keep a record of how much advertisers are paying for each niche topic.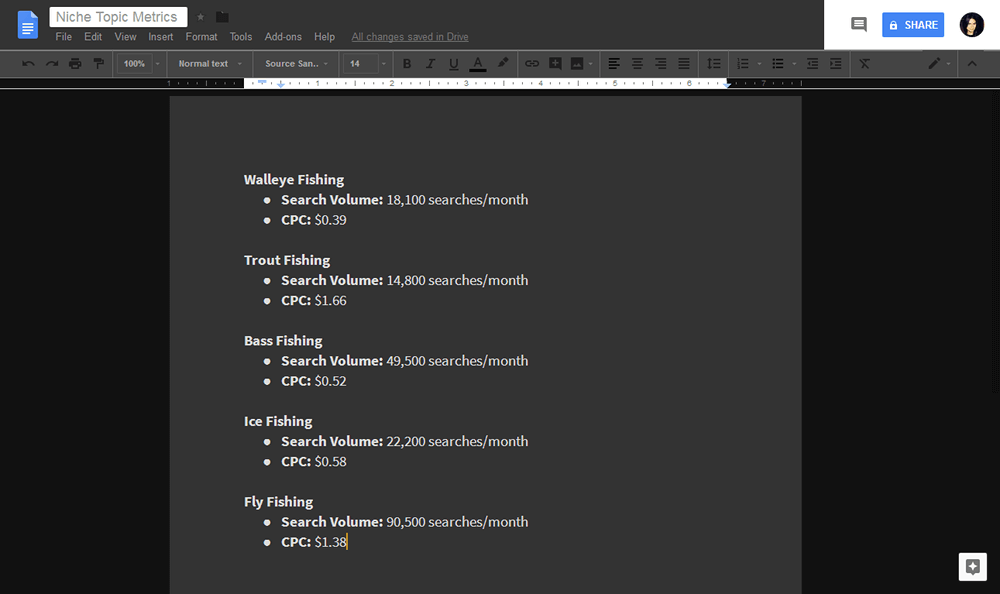 Next, view the popularity of your niche topic over time in Google Trends. Creating a blog about a topic that has only gained popularity in recent months is risky as the buzz will probably wear off soon, which means you'll be stuck with no traffic. Starting a blog about a dying niche is risky as well. Look at your niche topic's data in Google Trends, and make sure it's maintained popularity over time. It doesn't need to be much. It just needs to be consistent.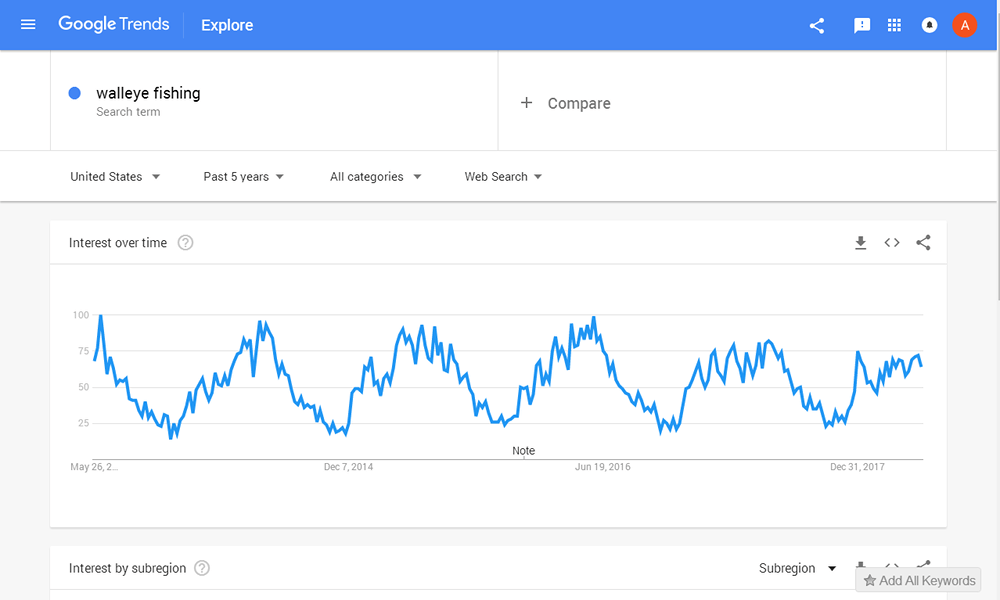 The screenshot above shows the popularity of the topic "walleye fishing" over a period of five years. You can see the popularity of this topic drops dramatically every fall/beginning of winter. This means I shouldn't choose "walleye fishing" as my only blog niche because I'll have three to four consecutive months out of the year where my traffic has the possibility of decreasing to almost nothing. Instead, I should choose to add a second topic to my blog during these months, such as "ice fishing," whose popularity soars during that time. Be sure to add when your topic is most and least popular. Here's what I wrote for "ice fishing:"
Interest Over Time: most popular in December; somewhat popular November, January, February and March; not popular at all April-October
Lastly, see if your niche topic is popular on social media by searching for it on BuzzSumo: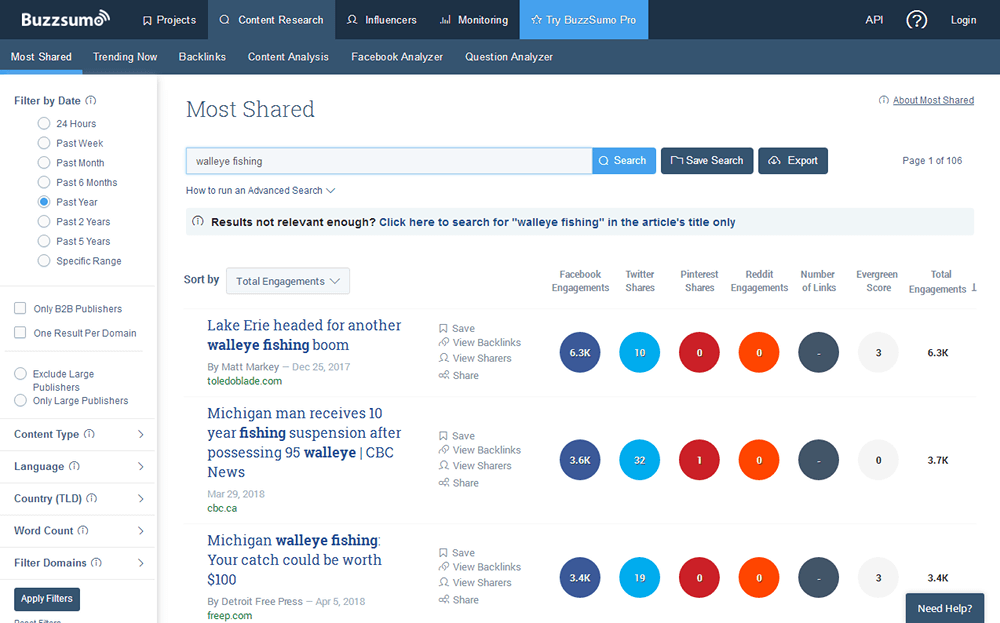 Record the most number of shares an article received for your niche topic (or top two if the first metric seems unusually high).
Conclusion
How to find the profitable blog niche?
Finding a profitable niche for your blog is the most important thing you should do before starting the blog.
Without a niche, your blog is going to fail. So choose a niche for your blog that generates more than $10,000 a month, using these 4 steps.
Gather all the topics you know…(pick up topics)
Choose a niche of your passion
Use Keyword Planner to Find More Ideas
Determine Which Niche is Most Profitable
By now I pretty sure that you have found your blog niche. If you did found, then Mention in the comment section below what was your niche! I'm very eager to know from you, how my idea worked on you…
[frontpage_news widget="343″ name="Check Out Other Guides"]
Latest posts by Mohammed Shahabaz
(see all)